About Our Toronto
Catering Company
Since 1980, the Daniel et Daniel team has been operating from 248 Carlton Street, a renovated Victorian Building in downtown Toronto. With the growth of the organization as well as the team, we've expanded our operations and now occupy 246-250 Carlton Street. The combined experience and professionalism brought by the Partners has built a diverse, energetic, creative and loyal staff of over 90 full-time employees, dedicated to planning and running successful events throughout the city.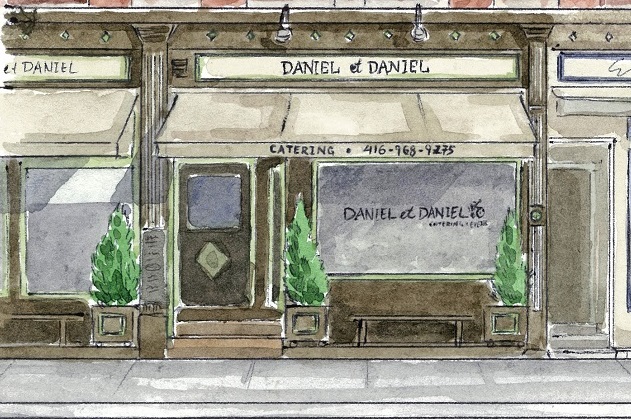 EXCEEDING EXPECTATIONS, ONE PLATE AT A TIME
Daniel et Daniel is Committed to Providing Superior Service by:
Listening to our clients
Understanding and anticipating customer needs & wants
Keeping abreast of current trends
Producing food of the highest quality and consistency
Carefully selecting our suppliers
Training and guiding our staff
Remaining committed to the highest level of ethical conduct
Being committed to finding and implementing innovative solutions for protecting the environment
Our mission statement applies equally to our entire client base. Our goal is to be the best at everything we do and allow our clients to shine. We are comfortable in all event formats, and with the policies and procedures we have put in place to guarantee a quality product and service, we have carved niches in both the corporate and private sectors.
Our specializations do not lie in one particular market, as we cater to every type of corporate and social function. What makes us successful in every market is our diversity and ability to apply our expertise to any situation or event. We thrive on new experiences and diversity!
Our Catering History
Daniel et Daniel was, as the name suggests, founded by two Daniels, both originally from Paris, France. Daniel Megly entered the hospitality industry at a young age as a waiter. His ability to work well with others and provide outstanding service quickly launched his career, and he soon found himself working for the Hilton hotel chain. His role with the famous hotel group required extensive travel throughout Europe and North America, giving him the opportunity to gain valuable knowledge in event planning and culinary arts. His unique blend of expertise, travel experience, and professionalism contributed to his success in the event management and catering business.
Daniel Clairet discovered his love for food early in life; at the age of 14 he was already working as a pastry chef and by the age of 18, was serving as a culinary apprentice. Clairet's unique skill set and natural gift for creating edible masterpieces garnered positive recognition from leaders in the industry. Combined with an in-depth knowledge of food, his passion soon led to a position as a Private Chef for the Rothschilds of France.
It was at Toronto's Auberge Gavroche, an iconic French restaurant located in Yorkville, where Megly and Clairet first met. Their shared passion for food and providing exceptional dining experiences built the foundation for a successful partnership and their catering business based on the values of French Haute Cuisine.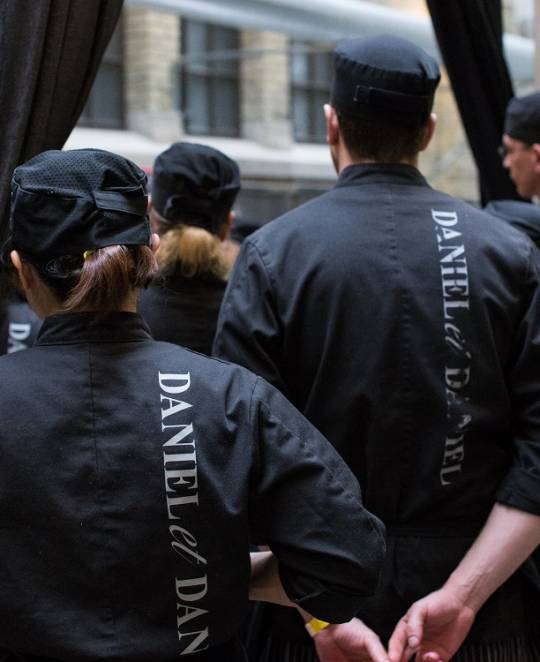 Our Food
Daniel et Daniel's roots are French and so in effect our food quality, services, and guest encounters are created and experienced accordingly. Our standards reflect the excellence and training of French Haute Cuisine and the love of fresh food is celebrated, we are located in the heart of Toronto. This energetic and diverse city is reflective of our staff; each bringing talent and experience, allowing us to excel in all types of cuisine. Our menus are fashioned with the utmost care, and the environment in which they are served is designed with the greatest consideration of the client's and event consultant's combined visions
Daniel et Daniel believes in offering the best product and service for the best available price. Our standards are high and so we have spent much time building strong relationships with suppliers that help keep our quality product priced affordably. Fresh, seasonal, local, whole foods are a staple in our kitchens.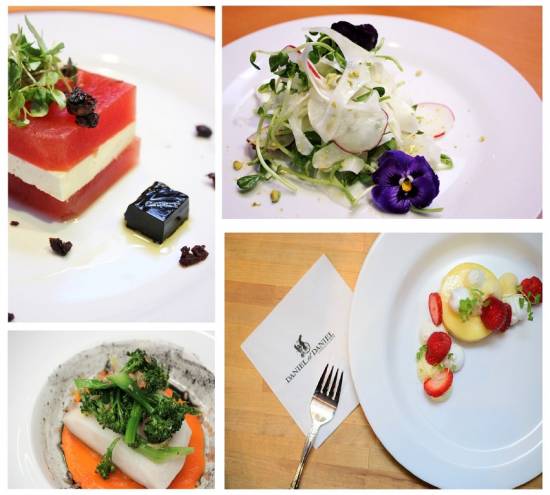 Giving Back and Working for a Greener Environment
Daniel et Daniel is committed to finding and implementing innovative solutions for protecting the environment. Daniel et Daniel was involved in the pilot project on composting and recycling and was a driving force behind the implementation of the current system for restaurants and prepared food suppliers in the City of Toronto. As active members of the system it is estimated that we now recycle 95% of our waste. Company-wide, we recognize our environmental impact and responsibility in all aspects of our operation, both on and off-site. For a detailed list please see our Environmental Policy.
Daniel et Daniel believes in engaging and supporting our community, while helping those in less fortunate circumstances. In the past we have contributed to AidsBeat, Casey House, Free the Children (Me to We), Local Schools, Sporting and Art Groups (Cabbagetown), and the PWA Foundation.
Impeccable Service
We are fortunate to have a culinary team and a sales force that have innate tastes, both in our ever-evolving cuisine and in the presentation. We have built a team that believes in creating connections with clients through listening and investing personally in their events. We add our style to our clients', integrating their needs with our inspiration, experience, and industry knowledge to create an environment that showcases our quality product, presentation and service levels. With our culinary expertise, we are able to work with our clients to re-imagine ideas, making the ordinary extraordinary, and in the process creating something unique for each client, showcasing their personality, creativity and energy.
Years of experience have taught us to be prepared. Our staff are trained to ask a number of questions and our staffing ratios, food portions and set-up times have all been standardized and perfected.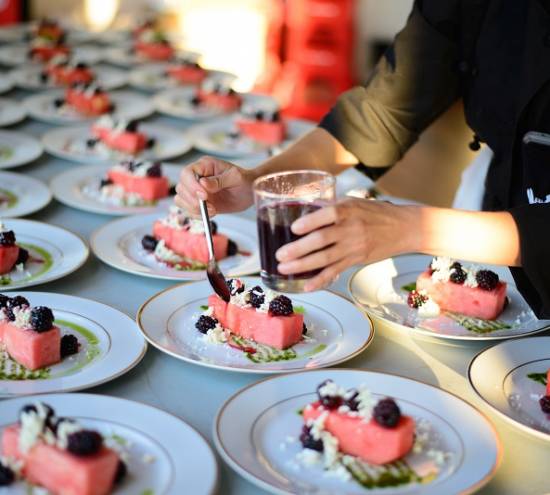 Event Management
We thrive on new experiences and have created a successful Event Planning division, marketing our services to encompass the entire event, enhancing our product with specialty lighting, entertainment and décor services. We have partnered with the best suppliers in the city to provide their product and expertise, while our event planners can walk you through every step. Every year we attend International conferences in order to keep up with emerging trends and enhance our industry contacts and knowledge.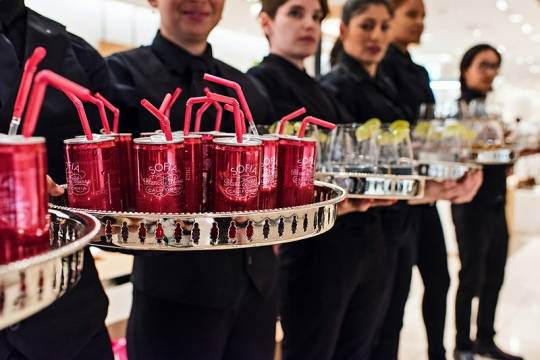 Awards
---
Daniel et Daniel is proud to be the recipient of these awards
ICA Catie Award & Catersouce
Best Platted Dinner 2018
ICA Catie Award & Catersource
Chef of The Year: Karen O'Connor 2015
ICA Catie Award & Catersource
Best Hors D'oeuvre 2015
Canadian Special Event
Caterer of The Year 2015
Canadian Special Event – Reader's Choice Award
Favourite Event Caterer 2014-2015
ICA Catie Award & Catersource
Signature Caterer, Best Wedding 2014
Consumer's Choice Award
1999, 2000, 2001, 2002
Toronto Star's Readers Choice Best Caterer
2019, 2020
Fab Magazine's Best Caterer
2001, 2002, 2004
Best Buffet Presentation
Canadian Event Industry
PWA Friends of the Foundation Award
Outstanding Corporate Support 2011
International Caterers Association
Best Plate presentation 2007
Catersource
3rd place, Best Website 2007
Fab Magazine's Best Caterer
2001, 2002, 2004
Best Buffet Presentation
Canadian Event Industry
PWA Friends of the Foundation Award
Outstanding Corporate Support 2011
International Caterers Association
Best Plate presentation 2007
Catersource
3rd place, Best Website 2007
NOW Magazine's Best Caterer: 10 years running
1995-2005 & 2007-2014, 2016, 2018, 2019
NOW Magazine's Best Caterer: Runner Up
2015 & 2017
Menupalace.com
Top-10 placement in Catering: 2004, 2007
NOW Magazine's Best Gourmet Take Out
2003
XTRA Magazine's Best Caterer
1998, 1999, 2000, 2001, 2003, 2005, 2006, 2007
Toronto.com
Best of T. O. Caterers Finalist 2003
The Company