Toronto Wedding Catering
We've catered enough weddings in Toronto to recognize that there are few things better at bringing people together than great food. We also know that great food is just the start of an amazing dining experience. Our catering team works with you to customize every part of your wedding. From flavour profiles to dietary restrictions, to overall style, we create a menu that's as unique as the couple enjoying it.
Contact us today to schedule an appointment with one of our Toronto catering consultants. Take the first step in making your wedding magical with the help of Toronto's top catering company.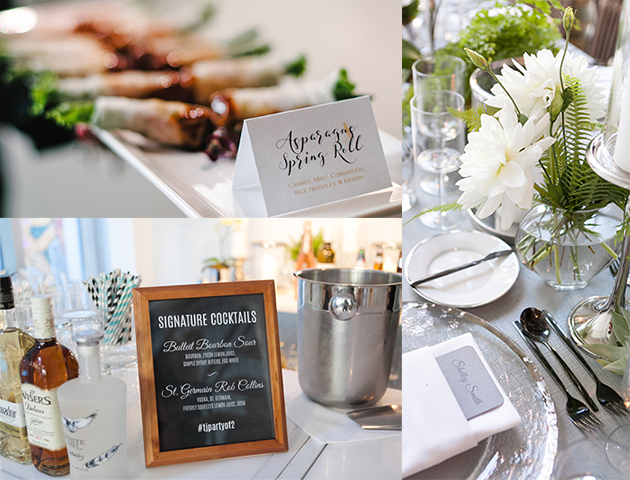 Exquisite Wedding Catering
Daniel and Daniel has an accomplished line up of chefs and catering consultants to help ensure your wedding is a success.
Combining their wide range of skills and worldwide culinary experience, our wedding menu development team is renowned for setting trends.
We take a collaborative approach when developing the wedding catering menu. You will work closely with a dedicated catering consultant who will help you select food items and make recommendations based on your needs. Please see our sample wedding menu selection.
Every wedding menu is customized to complement your occasion. Our dishes can also be tailored to meet specific dietary requirements or food-related allergies. We strive to deliver the best wedding experience possible, and all our food is prepared on-site and made fresh.
Your Wedding Day
On your wedding day, we want you to live in the moment. Our catering and planning team will be there from the moment you arrive till your guests leave with beautiful memories of your wedding. Our dedicated event planner will be on-site the day of your wedding to make sure that every detail discussed, from the decor, planned wedding menu to the service, is perfectly implemented and proceeding according to schedule. Our wait staff are attentive to any guest needs that may arise, and provide a level of service that will be recognised and remembered. Our catering chefs will make sure that any dietary restrictions are looked after, while simultaneously delivering beautifully presented dishes to your guests according to your schedule.
Your Wedding Tasting
At Daniel et Daniel, we want you to know exactly what you're getting. That's why, at your custom wedding tasting, you'll have a full preview of what to expect the day of. Full portions will be presented exactly as they'll be at your wedding, alongside linen samples and place setting suggestions. Not only does this give you a great idea of what your wedding experience will be like, but it allows to make adjustments so everything is to your liking.
Our kitchens and catering office are both conveniently located in the heart of downtown Toronto, at 248 Carlton St. We're happy to welcome couples, as well as their families, to come by and enjoy a truly customized culinary experience.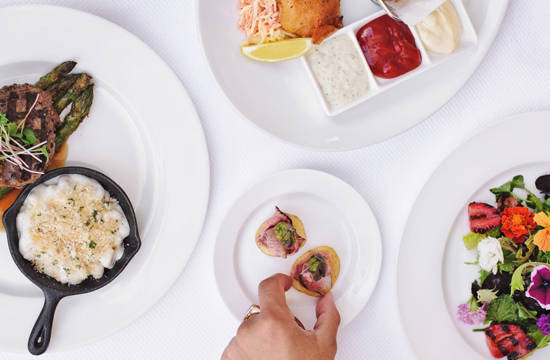 Catering Food Philosophy
Our team knows that using fresh, seasonal, and locally sourced ingredients makes for the best food. With that philosophy to guide us, we create innovative dishes that are inspired by, and unique to, Ontario's agricultural calendar. This love of quality ingredients has naturally led to us sourcing not only the freshest, but the most sustainable products possible. These choices are reflected in a number of ways: from "100 KM" menus and our wealth of organic produce, to our Ocean Wise membership, and our firm stance against GMO products. Most importantly, these choices are expressed by bringing the most delicious food possible to your wedding.
Dietary Requirements
Dietary restrictions and preferences are a fact of life, and we believe that, regardless of individual dietary needs, every one of your guests deserves to have an amazing culinary experience. Our experienced chefs are able to accommodate each guest's needs and desires in a way that ensures everyone leaves your wedding both satisfied and full. While it is possible to make some last minute accommodations can be made site, we prefer that individual guest's dietary requirements be communicated to us 7 days prior to the event date to ensure that everyone gets to enjoy the catering.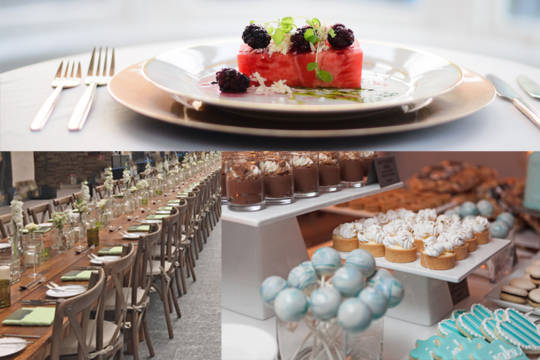 What you can expect from us
A refreshing client centered experience
Leading culinary trends
Professionally trained and experienced staff
Hands on coordination between your venue, rental services and suppliers

From concept to creation, discover how we can make your vision a reality.
Unique Toronto Wedding Venues
Toronto is home to some of the most beautiful wedding venues in the world. Daniel et Daniel is a preferred caterer at over fifty of these wonderful spaces. As a full service caterer, we're happy to be able to offer venue booking, floor plan, and design services to all of our clients.
Your planner can help you choose a venue, assist in booking it, and offer advice on the best way to seat everyone once they get there! They're able to help as much, or as little, as you need. And they'll be there the day of the wedding so that you never feel overwhelmed.
A unique venue should be a reflection of the couple. Maybe that means it isn't a building. If you'd like to hold your wedding at a private residence, our catering team can help. With decades of experience facilitating tented, outdoor, cottage, backyard and even barn weddings, we can create your perfect venue just about anywhere..
Our talented team can assemble everything needed to make your wedding both magical and practical, from pop up kitchens, outdoor generators to dance floors.

Wedding Catering