The Design Exchange has been ground zero for countless spectacular events over the years. Bursting forth from the former home of the Toronto Stock Exchange, it has been a significant host to Toronto's event scene for two decades, setting the scene for myriad weddings, corporate events and fundraising galas. The interior of the former Stock Exchange is beautifully dramatic in its own right, but for a yearly recurring event we knew it was essential to provide an element of surprise.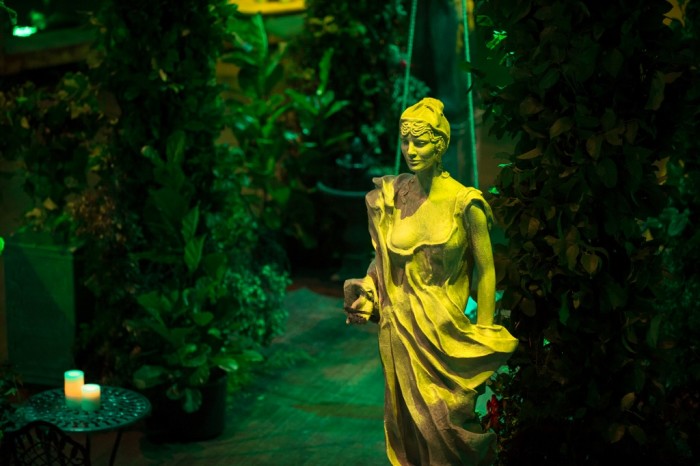 For this annual event hosted by one of our prominent corporate clients, we thought outside the box–quite literally–and took the event's design to the great outdoors.
Meredith Vaux, a Daniel et Daniel event planner for 8 years, crafted a complete makeover of the space in collaboration with Marta from 5th Element Design. Full disclosure: Meredith hosted her own wedding at the Design Exchange in 2010 and knows the venue like the back of her hand!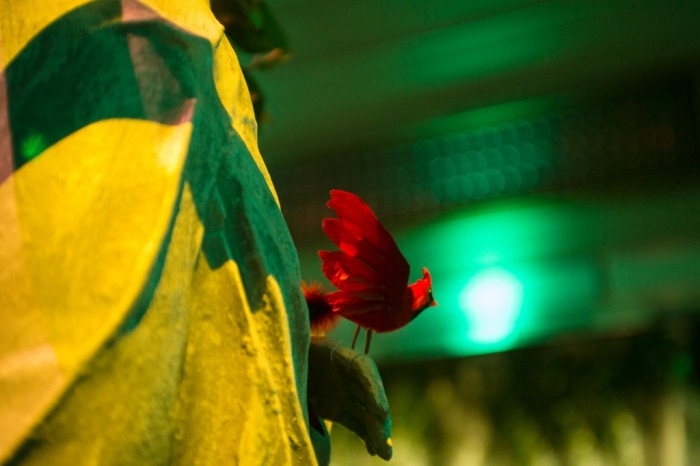 With no visible evidence of the whimsical world that awaited them within, arriving guests were led through a sheer white passage onto the exchange floor and into the Enchanted Garden.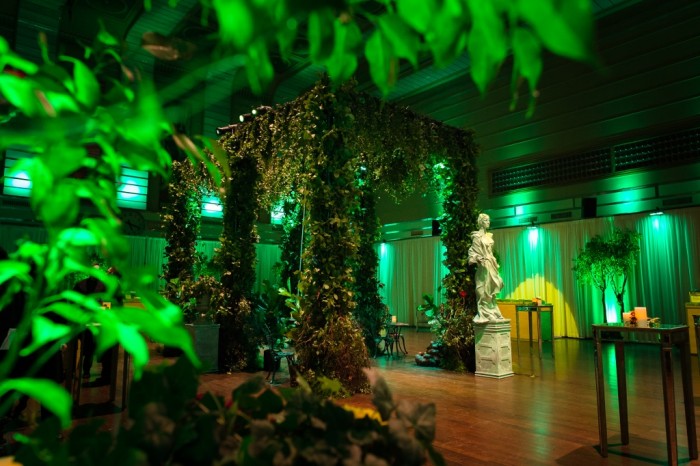 A giant ivy covered installation with old-fashioned swing set was the focal point, while bird baths and wrought iron furniture sat tastefully throughout the venue. The entire room was lit with a soft green glow and wisps of grass were projected onto the walls. A whimsical touch was added with the addition of garden statues, small birds and butterflies, in addition to an over-sized chess board for guests to enjoy a friendly game. Tying the whole theme together, the event team strategically placed tiny speakers in the foliage so chirping birds and other nature sounds could be heard through the leaves, providing a truly multi-sensory experience.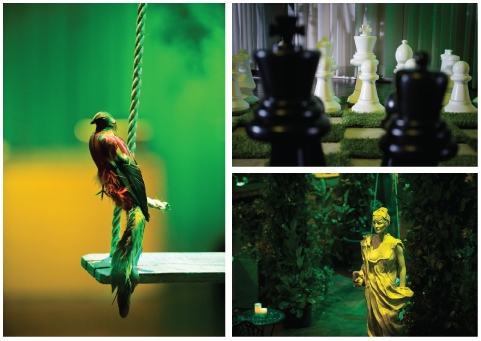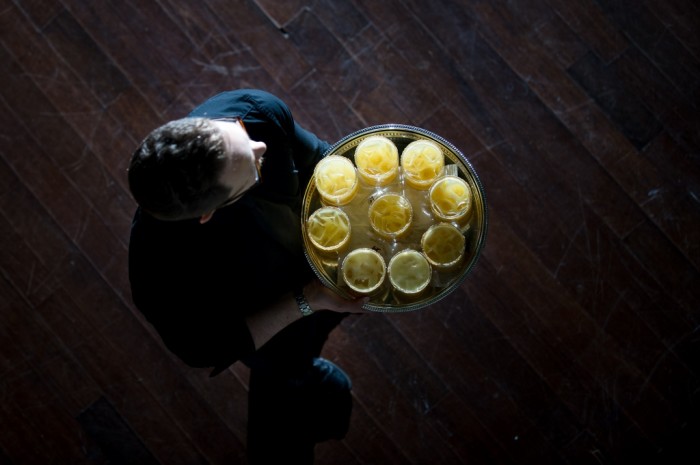 We love greeter drinks which complement the tone of the evening and the menu and provide guests with an impression of what is to follow. For this occasion, Meredith and our culinary team created a welcoming cocktail that captured the essence of the event: bourbon, smoked pineapple puree and a sweet and spicy rim awakened the senses while sweet and tart San Pellegrino Limonata bound it all together.
Passed hors d'oeuvre and food stations for this event all reflected the garden theme and kept guests mingling. Sharing her thoughts on the sources of inspiration for the evening's menu, Meredith says:

"As the majority of guests return for this event each year, we make sure that all menu items are new! As the theme of the evening was tied closely with nature, I selected food that showcased items you could grow in your own garden – wild mushrooms, potatoes, carrots, beets, tomatoes and fresh herbs.

The one item that is requested to repeat each year is an oyster bar. To add an element of surprise, we opted to make this year's oyster bar a roving station that travelled through the enchanted garden for the duration of the evening."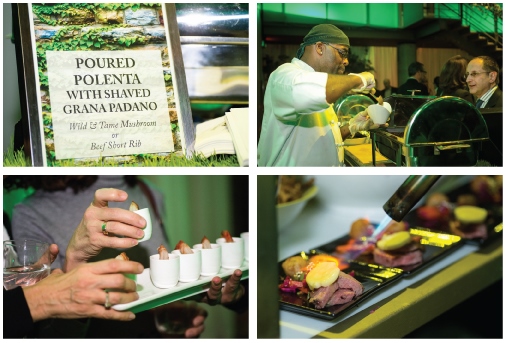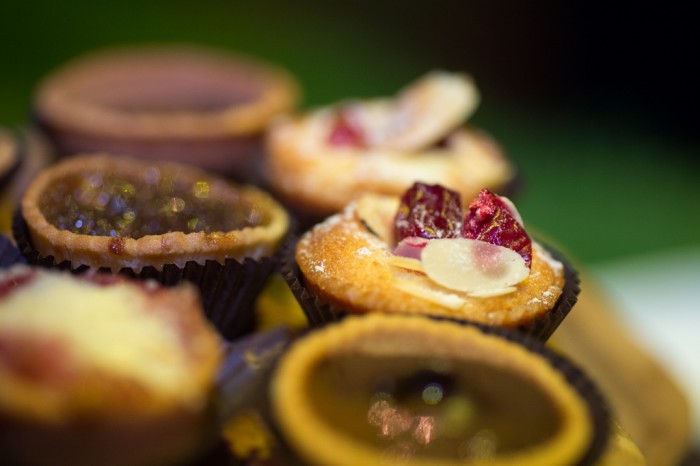 Meredith Vaux and Marta from 5th Element Design's collaboration allowed us to perfectly execute the client's vision. We think the result was a smashing success and we eagerly look forward to our next collaboration.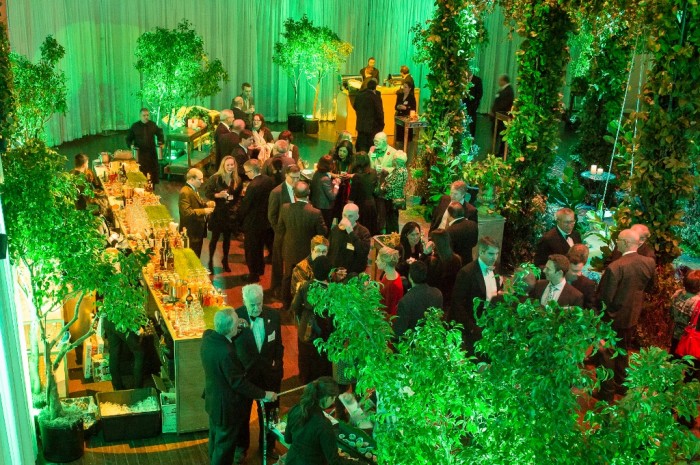 Garden party, Mad Hatter High Tea, or New-Season-of-Game-of-Thrones Repast? We'd love to hear what you're dreaming up for your next fête. Get in touch via email or at 416-968-9275 to find out how we can bring your event vision to life.
Like what you see in this article? You can contact Meredith Vaux directly via email or at 416-968-9275 ext. 46 to discuss your next event!
All photos courtesy of Katia Trudeau of Found in Love