Despite the arctic freeze hovering over Toronto this winter, our Executive Chef Karen O'Connor along with Executive Pastry Chef Bonnie Kravitz and our amazing culinary team have not been hibernating! The kitchen has been humming with the ideas brought forward from our eager Menu Committee, consisting of sales and culinary staff, all dedicated to the creation of Scrumptious! Inspiration came from the colour and anticipation of spring and summer produce, and fresh ideas were molded into the new event catering menu, lovingly perfected in our kitchens.
The end of January brought the highly anticipated Big Reveal, and our enthusiastic sales team congregated in our Tasting Salon to sample each of the newly-developed menu items. All in all, we are rolling out over three dozen new toothsome bites and plates for Spring and Summer 2014, and believe us, we cannot WAIT to share them with all of you!
Here's a taste of what the Daniel et Daniel experience will offer come March 20th.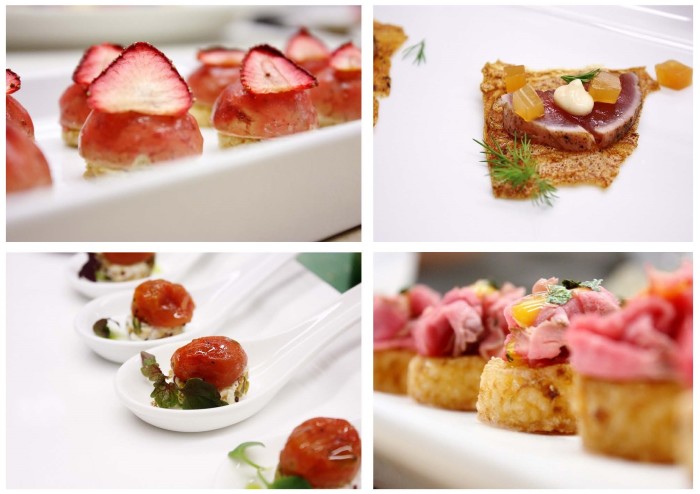 The newest additions to our Hors d'Oeuvre Collection, clockwise from top left to bottom left:
Summer Strawberry Foie Gras Strawberry Petal, Butter Brioche

Tuna Pastrami Smoked Aioli, Fermented Tomato Gel, Potato Cornmeal Caraway Chip
Bibimbap Rare Striploin, Egg Yolk Cream, Kimchi Rice Crisp, Nori Powder
Roast Tomato Caprese Roasted Cherry Tomato, Quebec Chevre, Savoury Granola, Basil Oil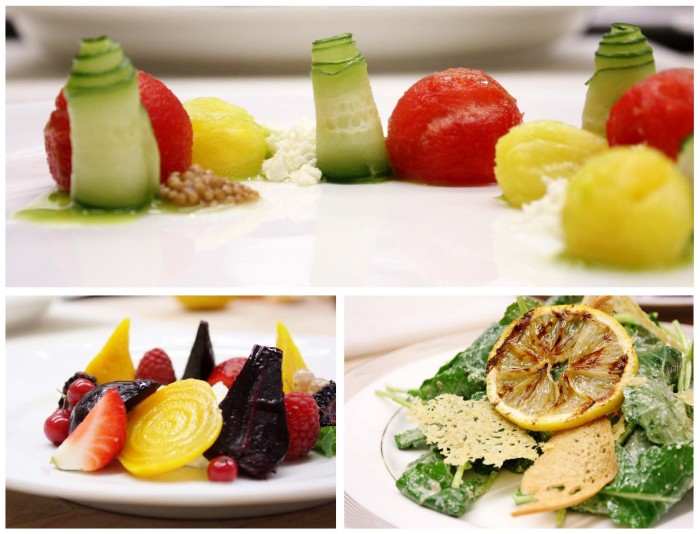 New Spring/Summer Salads, clockwise from top to bottom left:
Cucumber and Watermelon Red and Yellow Watermelon, Feta, Pickled Mustard Seed, Cucamelon, Rolled Cucumber

Kale Caesar Baby Kale, Parmesan Frico, Pumpernickel Bagel Crisp, Grilled Lemon
Beet and Berry Red, Yellow, Candy Cane Beet, Blackberry, Strawberry, Raspberry, Currants, Horseradish Chevre Mousse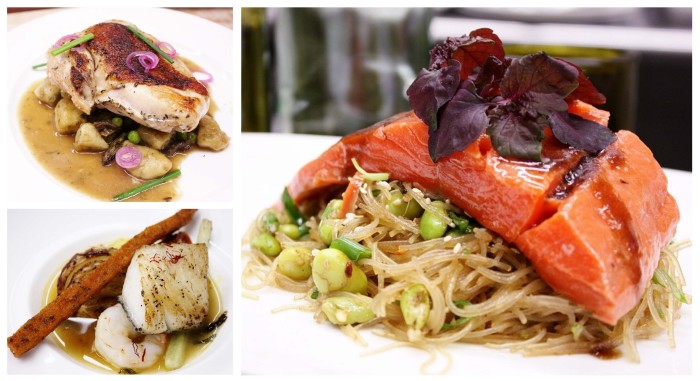 Fresh Mains, clockwise from top left to bottom left:
Butter Poached Chicken Mushroom Beurre Blanc, Saute Asparagus and Mushroom, Herbed Gnocchi

Chinese Tea Poached Wild Salmon Tamarind Tea, Soy Glaze, Glass Noodle with Edamame, Sesame, Soy, Tamarind, Ginger

Bouillabaise Black Cod, Shrimp, Calamari Noodles, Rouille Polenta Crouton, Caramelized Fennel, Celery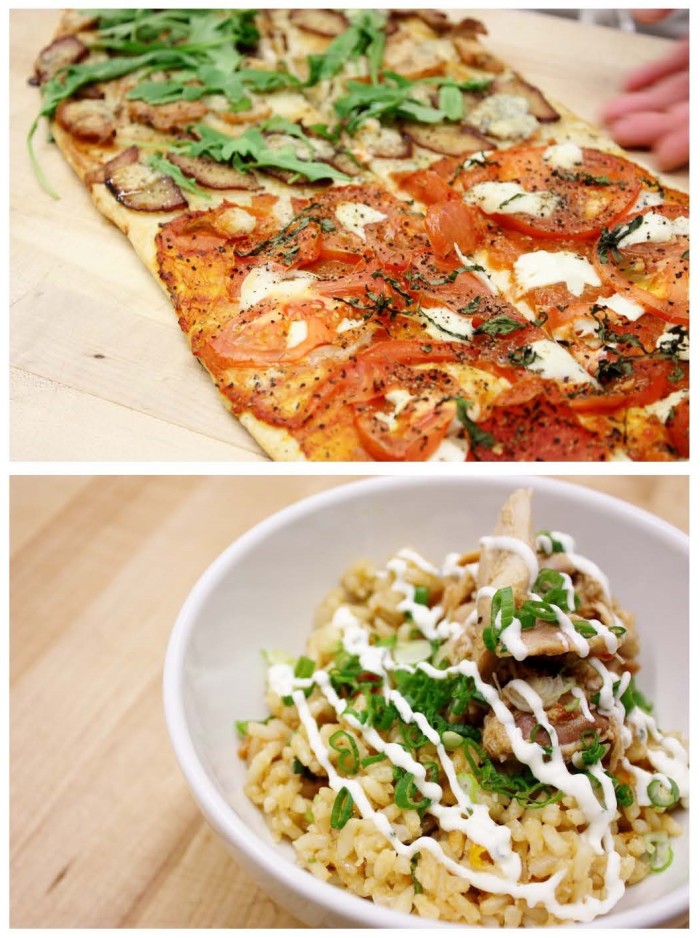 New Cocktail Stations
Daniel et Daniel Flatbreads Tomato Margherita and Roast Chicken Portabello (pictured), Spicy Sausage, Gorgonzola

Mexican Rice Bowl Mexican Rice, Chipotle Chili Braised Chicken or Short ribs, Sweet Corn Succotash, Cilantro Crema, Fried Tortilla Crisp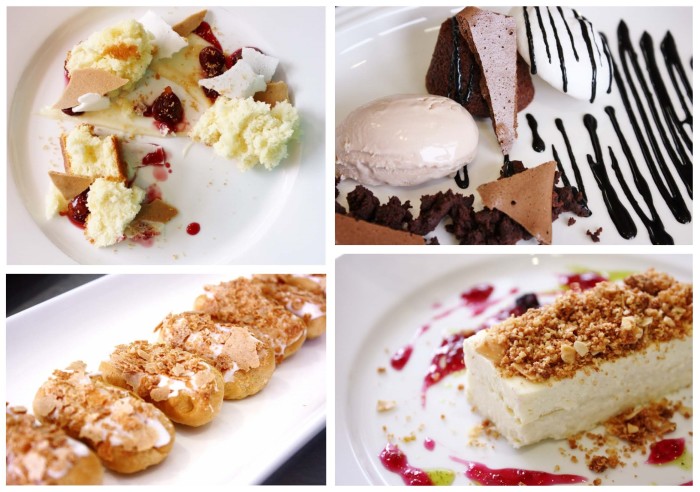 Plated and Miniature Spring and Summer Desserts, clockwise from top left to bottom left:
Torn Buttermilk Cherry Cake Buttermilk Cake, Sour Milk Jam, Hendrick's Cherries, Brown Butter Tuile, Dehydrated Milk Foam
Root Beer Float Sassafrass Ice Cream, Dehydrated Malted Chocolate Mousse, Flourless Chocolate Crumb, Black Cocoa Sauce, Fizzy Meringue

Ricotta Cheesecake Almond Crumb, Blueberry Marmalade, Vanilla Basil Oil

Miso Butterscotch Eclair Ramen Crunch

Ready to say good-bye to winter with us? To book these and other innovative menus that are sure to keep your guests talking, reach out by email or give us a call at 416-968-9275!
We love food. We love parties. Let's create a phenomenal experience for your next event.