Being cooped up at home for a long period of time isn't the most ideal situation for anyone.
With all this free time on your hands, you may be looking to try something new in the kitchen.
Luckily Daniel et Daniel's Executive Chef, Karen O'Conner, and Head Pastry Chef, Bonnie Kravitz,
have shared a few of their own favourite recipes for you to try at home.
These recipes are simple and cost-effective, and will surely wow your family at the dinner table!
Spaghetti Carbonara by Chef Karen O'Connor
A note from Chef Karen:
"This is my favourite recipe to make when the cupboard is bare. Not only is it delicious, but it is incredibly easy to make! I used to make Spaghetti Carbonara all the time when I was first married because it was quite inexpensive to make. I also made a lot of liver because it was only a dollar a pound back then. My husband still eats the Spaghetti Carbonara, the liver not since the first year of our marriage."
Ingredients:
1 tbsp butter or olive oil
2 cloves of garlic, minced
4 oz bacon, diced
3 eggs
1 cup parmesan cheese, grated
1 lb spaghetti
1 cup peas (optional)
Pepper to taste
Parsley, chopped for garnish
Directions:
Mince your garlic and dice your bacon. Whisk the eggs and parmesan cheese together. Set aside.
Bring a large pot of salted water to a boil. Once boiling, add the spaghetti and cook for 8-10 minutes until it's tender but firm.
While the spaghetti is cooking, heat the oil or butter in a deep skillet.
NOTE: "I love my cast iron skillet for this but any skillet deep enough to hold all the cooked pasta will do."
Cook the bacon until crisp and the fat has rendered.                                                                                                                    NOTE: "If the bacon is done well before the spaghetti, turn the stove off. When the spaghetti has 1min left to cook, turn the heat back on."
Add minced garlic to the skillet and sauté lightly.
Before you drain the spaghetti, put aside ½ cup of the pasta water. Add the drained spaghetti to the skillet with the bacon and garlic. Toss together. Add a little of the reserved pasta water. Toss some more. Add the eggs and parmesan cheese mix into the skillet and keep tossing. Add some more pasta water to make it nice and saucy.
NOTE: "Make sure that you don't scramble the eggs when you add them to the skillet!"
If you feel the need for some vegetable, add a cup of frozen peas in the skillet during the last minute of cooking.
Finish with some freshly ground black pepper. Check the salt – you may not need any because both the parmesan cheese and bacon are quite salty. Garnish with some chopped parsley and more parmesan cheese. Serve and enjoy!
White Bean Stew by Chef Bonnie Kravitz
A note from Chef Bonnie:
"This is a hearty warming stew that comes together quickly and is pretty adaptable. You can add in more veggies if you like, switch out the potatoes or even use chickpeas if you don't have white beans on hand. I like to use both broth for my stews because it adds in a good dose of collagen and gelatin as well as tons of nutrient support for the immune system but if you are going the plant-based route, its perfect with vegetable broth as well. Cooking the potatoes in the stew thickens it slightly and the red wine vinegar gives it a nice balanced flavor. I love tarragon and it pairs really nicely but feel free to use any dried (or fresh) herb here. Rosemary, basil and even dill would all work beautifully."
Ingredients:
1 can white cannellini or navy beans
1 15 oz can tomatoes, crushed
2 cups chicken or vegetable broth
1 onion, diced
1 carrot, chopped
2 stalks celery, chopped
4 garlic cloves, minced
½ cup dry white wine
3 tbsp red wine vinegar (or white wine vinegar or cider vinegar)
3 small potatoes (white or red, or you can use 6 mini potatoes or sweet potato), cut into 1 inch chunks
1 bunch kale or spinach (can also use frozen)
1 tsp dried tarragon
Salt and pepper to taste
1-2 tbsp avocado oil or olive oil
Directions:
In a Dutch oven or large pot with a lid on medium heat, sauté onion, carrots and celery in oil until soft and just starting to brown. Season with a little salt and pepper as your vegetables cook.
Add in garlic and cook for another minute until fragrant.
Deglaze the pot with the white wine and scrape up any brown bits from the bottom of the pot. Let the wine cook out a little, about 1-2 minutes then add the crushed tomatoes, tarragon or basil and broth. Bring up to a simmer then add potatoes.
Cook covered on low until the potatoes are soft for about 20 minutes. Add in the beans and the red wine vinegar.
Cook another 10 minutes with the lid ajar and season with salt and pepper to taste. Add in chopped kale or spinach and cook just to wilt the greens. Serve and enjoy!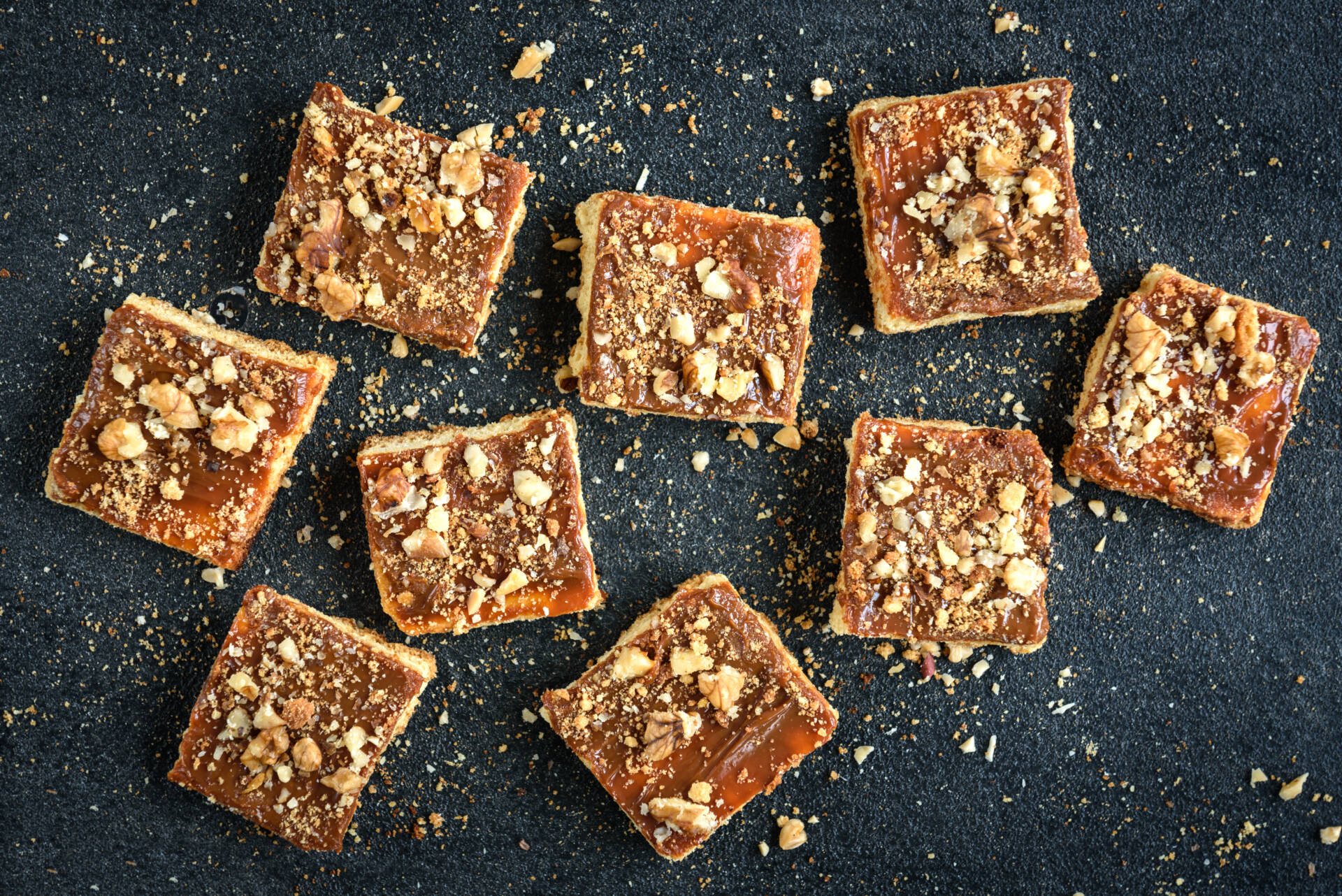 Hello Dolly Squares by Chef Karen O'Connor
A note from Chef Karen:
"These were my favorite squares when I was little, and I think they were my mom's favorite to make because they were easy!"
Ingredients:
1½ cups graham cracker crumbs
½ cup butter, melted
2 cups semi-sweet chocolate chips
2 cups pecans
2 cups sweetened shredded coconut
1 14 oz can sweetened condensed milk
Directions:
Preheat oven to 350° Lightly grease a 9-inch square pan.
In a bowl, mix together graham cracker crumbs and the butter. Lightly press the mixture into the bottom of the pan.
Layer on the chocolate chips, pecans, then shredded coconut.
Drizzle on the sweetened condensed milk.
Bake for 25-30 minutes or until the coconut is golden.
Cool completely. Cut into squares and dig in!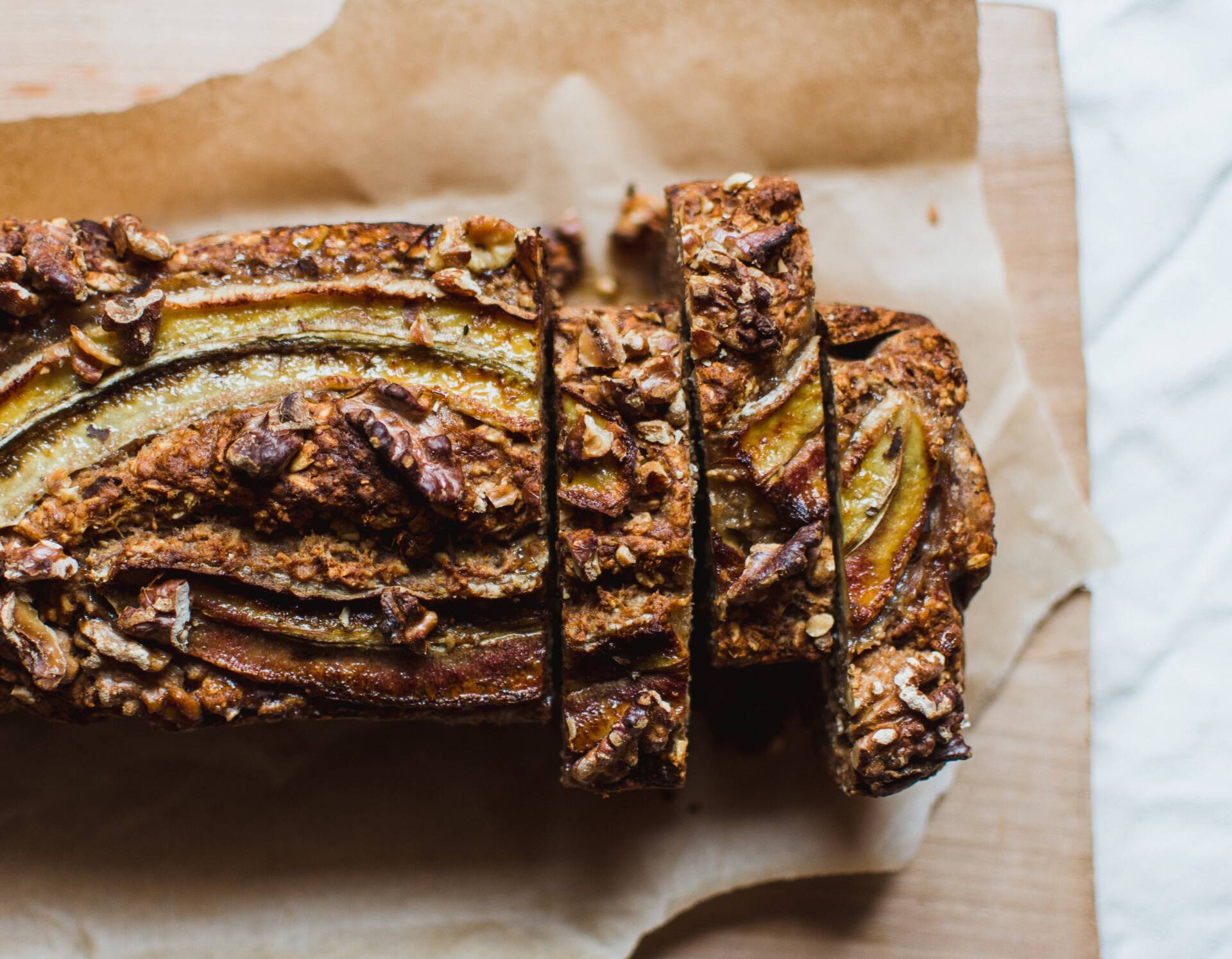 Banana Bread by Chef Bonnie Kravitz
A note from Chef Bonnie:
"This is my go to banana bread. A loaf rarely lasts a day in my house. If you don't have whole wheat flour feel free to use all white flour. I often sub out both the sugars for an equal amount of coconut sugar because that's usually what is in my pantry and it works perfectly. If you are intolerant of dairy you can substitute the yogurt for ½ cup dairy-free milk mixed with vinegar or lemon juice. This is an easy recipe to do with kids as they always love mashing up the bananas!"
Ingredients:
1 cups all-purpose flour
1 cup whole wheat flour
1 tsp baking powder
¼ tsp baking soda
½ tsp salt
Heaping ½ tsp cinnamon
Pinch nutmeg
Pinch ground cloves
¾ cup granulated sugar
½ cup brown sugar, packed
1/3 cup vegetable oil
½ cup plain or Greek yogurt
2 large eggs
1 tsp vanilla
3-4 super ripe bananas or frozen-thawed bananas
½ cup chocolate chips (optional)
Directions:
Preheat your oven to 350°F. Grease a loaf pan.
In a small bowl whisk together the flours, baking powder, baking soda, salt and spices.
In a large bowl mash the bananas. If you are using frozen bananas make sure to discard any excess water that comes out of them.
Whisk together all the remaining ingredients. Add the dry mix to the large bowl and mix to incorporate everything.
Add in the chocolate chips if you are using.
Pour the batter into the prepared pan and bake for 50-60 minutes until puffed and golden brown and a toothpick inserted in the center comes out clean.
Cool in the pan for 10 minutes then turn out onto a wire rack to cool completely. Slice and enjoy!
We hope that you give these recipes a try and have fun while doing so!
Share your creations with us on Instagram and Facebook: @danieletdaniel