Our VP Russell Day writes about his BoxedToronto experience.
Thinking inside the box
I was invited to dinner this Wednesday by my boss, Daniel Megly, co-founder of Daniel et Daniel Event Creation & Catering. He had been invited to dinner at "Boxed Toronto" and had an extra seat. Not one to look a gift horse in the mouth, of course I said yes—people don't typically invite the owners of Daniel et Daniel to dinner at McDonald's. I knew immediately that this would be a treat.

What I didn't know was that this was no ordinary restaurant. "BoxedToronto," comprised of Chef Matthew Sullivan, along with Pastry Chef Carlo Lazzarino and Sous-Chef Fab DeCicco (bios below) had rented The Mascot, a groovy Parkdale Café, for a two-night run of local gastronomie. Now I had heard of the underground concept of Pop-Up restaurants for the past few years, but had not yet seen them in Toronto. Rather a cult phenomenon, you typically have to be in the know, or bribe your way onto a special list. Then once on said list you sit and stare at your iPhone, obsessively waiting for the email that will be sent out telling of the date and time of the fête (location usually disclosed at the last minute.) At this point you have to drop your iPhone, Blackberry, glass of wine, baby, etc. and rsvp within 1.5 seconds or else your place gets swallowed by the hungry swarm lying in virtual wait…I digress, but my last minute invite circumvented all that. Score!
The evening was muggy, and we arrived to be greeted by super-friendly staff with glasses of thirst-quenching Watermelon Lemonade, perfectly chilled and, although not spiked, was absolutely spot on for the evening. The gritty character of the local café was paired well with the evening's festivities. Spare décor, worn hardwood and dim lighting brought our eye to the dining tables where we would soon be seated. Tables were adorned with mini Logo-ed "Boxed" cardboard boxes sprouting Gerbora Daisies (always a cute touch, there's always mischief when you see Gerboras) along with the requisite bread basket.
Chef Matthew created and presented a local menu with originality and flair. The appetizer of Lovell Springs cold cure trout (Lime zest and Lemon Grass) was garnished with pretty, tangy Chive blossoms, and the "salad" course came paired with Rocket Gnocchi and Matchbox Garden radish. We found the course servings to be deceivingly filling (Yes, tasting courses always look so small. So why am I so stuffed at the end of the meal?) The Main Course of Black Angus Rib Eye (perfectly dry-aged and grilled to a perfect rare) was accompanied by a cured Egg Yolk and a Congee-like creation flavoured with morsels of Scallop (thank god I am not allergic, could have been a disaster).
The plates were more impressive when we discovered that the kitchen Matthew & Co. were using was located ACROSS THE ROAD. Now we at Daniel et Daniel are used to working in closets, garages, alley-ways, basements, barns (you get the point), but never have we had to engage the services of a Crossing Guard to serve a meal! We were now truly at home, for this was not just a restaurant, but a full catered event (and we LOVE those!) The Monforte Cheese offered was unusual in its pairing with pickled potatoes and the simplest purée of Ontario Strawberries and Olive Oil. The delight finished off with Lattés and a rich, yet light Mousse of White Chocolate and Green Tea, Honeydew Melon Sauce, sliced Cherries and a finishing crunch of a crushed Chocolate Cookie.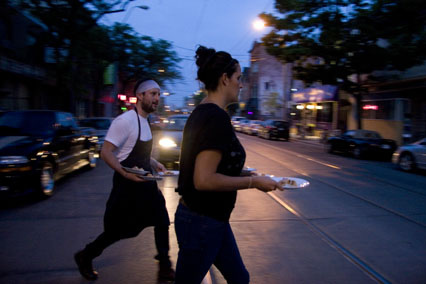 I have to take a moment to highlight the quality of the Bread at this dinner. Quite possibly the best sourdough I have ever eaten, the bread was purchased fresh that day from the wood-fired oven at Woodlot (College and Palmerston). Chewy, crusty, yeasty, it begged to be slathered with butter and send my cholesterol off the charts (I did, and it did). Many of our events these days have foregone the bread basket, but those carbs were heavenly.
The cost of this experience? All in, $80.00 plus tip, wine included. I mean, really now, you can't do much better than that. What was so special about this is that we got the opportunity to taste history. This restaurant, this menu, this meal will not happen again (well, it did happen again the next day, but after that never again…) But I'll let you in on a secret…this will happen again somewhere. Boxed events are planned June through August. You just need to be on the twitter list, @boxedtoronto. Get on it soon. And wait for the next opportunity. Until Chef Matthew opens his own permanent restaurant, you will need to be inside THIS box.
Russell Day, Daniel et Daniel
Wednesday's Menu
Lovell Springs cold cure trout
on toast with herb flowers
Matchbox Garden radish
and rocket gnocchi
Black Angus Fine Meats 80 day
dry-aged rib eye served with
cured egg yolk
Monforte cheese selection
on pickled potatoes
White Chocolate and green tea mousse
with honeydew melon sauce
About Boxed:
Boxed is a roving pop-up restaurant serving up locally sourced, ingredient driven food. The chef, Matthew Sullivan, is a graduate of Stratford Chef School. His culinary career has taken him to Michelin-starred restaurants in the UK & NYC, Il Pescatore in Port Credit and Toronto's Spice Safar, where he was opening chef. He shares his kitchen with Pastry Chef Carlo Lazzarino (Pastry Chef for Terroni) and Sous-Chef Fab DeCicco (Pasta Chef for Enoteca Sociale).
The Food: A Five-course meal featuring seasonal ingredients sourced from local purveyors. Our cuisine is wholesome food that seeks to showcase the star products of each of its suppliers.
All photo credits go to Natalie Castellino