Roy Thomson Hall, Saturday, August 27, 2011
"It looked like Hallowe'en in there!" chuckled a guest in full stage whisper as she exited the funeral service for Jack Layton into the North Lobby of Roy Thomson Hall.  The service had just ended and I looked at her to see her expression as the tone was light and, well, giddy.  She was already busy popping a mini Beef Wellington into her mouth as were the others around her, nodding in happy agreement.  Her statement was without guile; it couldn't have been with any—she herself was wearing a somber black outfit that was accented with an orange Fascinator-like hat.  Her comment had just echoed the optimism of the ceremony.  She craned her neck, scanned the crowd and asked, "Where can I get a drink?" of the now empty-trayed, blonde waiter.

Behind the Scenes:
It was a day that was planned with so much care, but all decisions were made on hyper-drive.  We received the call late in the evening on Monday, August 22, and as I scanned our Bookings Calendar, "DetD Fully Booked" was written in bold across the screen.  In addition, two of our regular staffing companies were closed off to new business.  Yikes.  But in true caterer-fashion, we took a deep breath and said "yes" to the job, recognizing the honour and privilege that it would be to serve at this historic occasion.
We immediately set to work on the myriad of details that caterers oversee:  determining the menu, planning the deliveries (all the streets surrounding Roy Thomson Hall would surely be shut off?), securing refrigeration space, buying up a giant supply of orange flowers, scanning our inventory for platters, renting appropriate equipment from Chairman Mills, ensuring that the six Weddings and bar mitzvah we already had on the go for that day were not going to be at all affected.  Then the real challenge began:  Securing service staff.     We weren't simply requesting that a couple of people show up and serve, we were asking for over ninety people to serve 2300 guests!  On a day when for all intents and purposes, no one was available.  So out went the calls.  I hoped that our suppliers would pull through.  And by Thursday they did!  Once the word got out that it was "for Jack", people responded with enthusiasm.  Like us, they wanted to be there.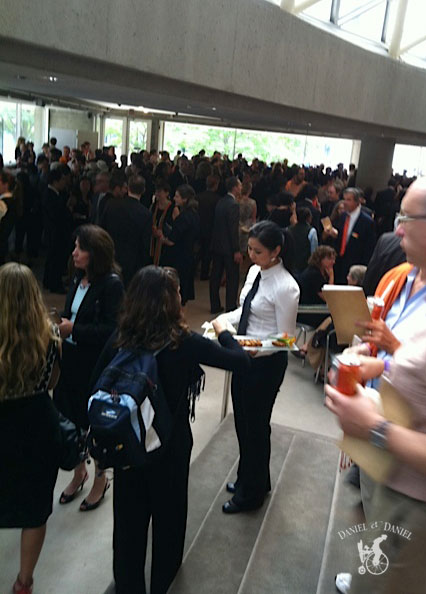 In Front of the Scenes:
The lobby tables at Roy Thomson Hall were draped in white.  The stationary food displays were landscaped with porcelain risers and decorated simply with orange gerberas and daisies.  Roy Thomson Hall staff had scoured the city and bought up every case of Orange Crush they could get their hands on, and the effect of the cans on the white linen was dramatic.  Trays of savoury hors d'oeuvre were placed on the food stations with attendants standing at the ready to replenish.  The satellite kitchens were humming with Chef Assistants plattering thousands of hot items to be butler-passed to guests.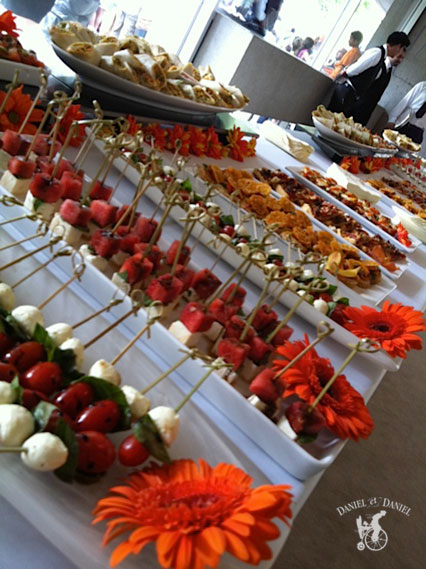 The joyous celebration in words, video and music of Jack's life was witnessed during set-up by all of our black and white-attired staff.   Overlooking Metro Hall, we watched the video screens, and heard the service as it was piped through the lobbies of Roy Thomson Hall.  We watched, and we shared in the emotions emanating from the thousands of people congregated in Metro Hall and on King Street.  We joined them with tears, laughter, applause and we shared in the overwhelmingly hopeful mood.  The service was most definitely a celebration of Jack's life, and as it was posed to me by Tara, one of our Staff Supervisors, "We were a part of history today."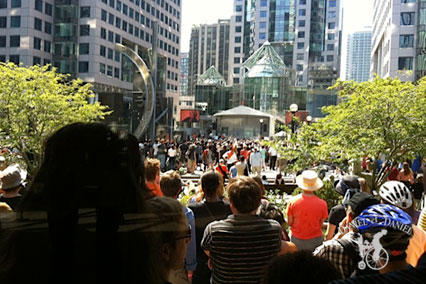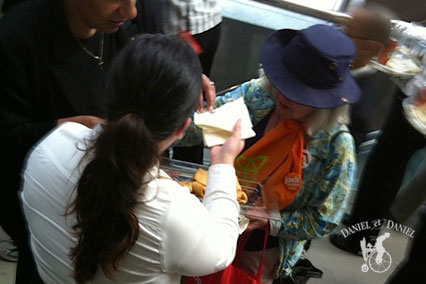 As the service drew to a close, the staff filed to the kitchen to pick up their trays laden with warm hors d'oeuvre, in time to gracefully greet the guests as they exited the auditorium.  Many attendees had taken care to dress with a nod to Jack and his party, showcasing an array of orange shirts, belts, pashminas, neck-ties, headbands, mini-skirts, and a turban.  Dapper MPs, such as Brian Masse (MP, Windsor West) sported delicate orange ribbons pinned with a mini Canadian Flag, created in fellow MP Carol Hughes' Riding of Algoma/Manitoulin/Kapuskasing by two sisters who felt compelled to do something for Jack (In fact, they had sewn over 2000 ribbons in tribute, most distributed and worn in their local annual Massey Fair Parade held Friday).  The mood at the Reception was not of gloom, but of hope and optimism, as precipitated by Jack himself in his farewell letter, and echoed by Stephen Lewis, Jack's children and Reverend Brent Hawkes.  Even the musical choices were uplifting and sent a positive message to Canadians.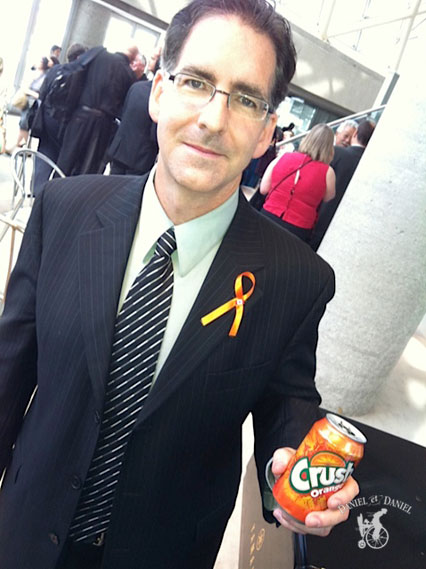 As I watched our team of servers wade through the crowd, with their respectful smiles, cocktail napkins, and trays of quickly dwindling food, I recognized the heart-warming feelings that had been with me throughout the day:  Pride that Daniel et Daniel could do our part in helping people feel a little better on this sad day; Happiness that we could participate in celebrating the life of a man who had made a difference; and gratitude to everyone who helped make our small part of this very important day possible:
Heritage Canada
Roy Thomson Hall
Dave Lovell Events
On the Park Event Staff
The Butler Did It
Chairman Mills
Core Staff
Staff Your Event
The talented and dedicated employees of Daniel et Daniel:
The Chefs (led by Karen O'Connor and Vel Sivapragasam) who prepared over ten thousand pieces of hors d'oeuvre for the event (in three days) as well as nourishing meals for backstage staff
Blaine Downey and his team of drivers who ensured that everything made it to the venue on time
Daniel Megly and Blair Johnson, who organized the presentation and the staffing with such precision
I also thank the gentleman who stopped me upon his departure (I'm sorry, sir, I didn't get your name) who said that the day was beautiful, and that the entire event "flowed like water."  It was so amazing to see the spirit in everyone who took care to wear something orange in memory of Jack Layton.  Nearing the conclusion of the reception, the flowers from the food tables were passed out to guests.  It was wonderful to see them leaving with a daisy in their lapel or behind their ear.  Hallowe'en it was not, but a celebration it most certainly was.
Our thoughts are with Jack Layton's family.
Russell Day
Vice President, Daniel et Daniel