What it takes to cater and plan one of Toronto's largest milestone sporting events.
THE HUDDLE
A MILESTONE EVENT
Giving fans a chance to hang out with some of their favorite athletes, the Grey Cup kickoff party is the ultimate event for football enthusiasts across Canada. With 104 years of history, it's amassed plenty of attention. This kickoff was particularly special as it returned to Toronto, the city where the first championship for the Grey Cup was played in 1909.
Teamwork is key! Corporate milestones require an intensive amount of planning on the design, décor and catering fronts. After selecting Ripley's Aquarium of Canada, one of Toronto's most unique event venues, the CFL chose Daniel et Daniel Catering & Events as their full service corporate caterer.
THE QUARTERBACK
JAKE CURL, EVENT PLANNER, DANIEL ET DANIEL CATERING & EVENTS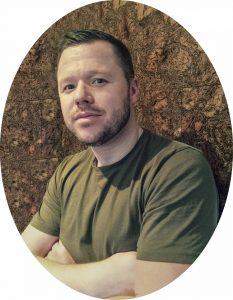 Our Senior Event Planner, Jake Curl rose to the challenge. With over 10 years experience as an event planner at Daniel et Daniel, his clients look to him for creativity and innovation both on and off the field. Elevating the Toronto Catering industry, Jake is a perfect example of why Daniel et Daniel is a full service "one-stop shop".
HALFTIME SHOW
EVENT ENTERTAINMENT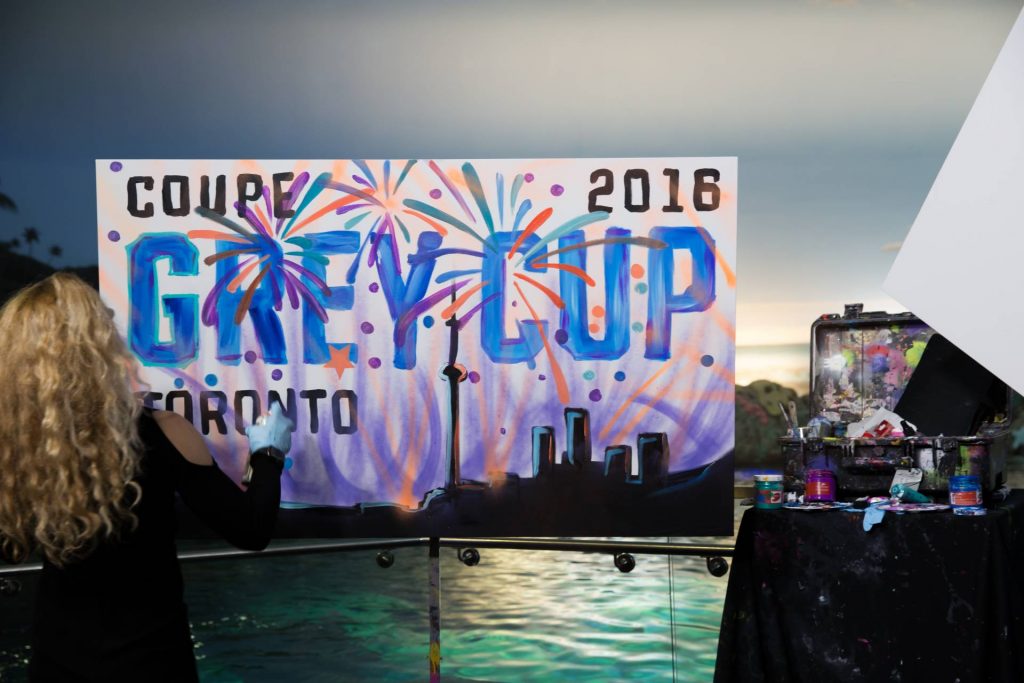 In keeping with the theme of the night, there were Argos cheerleaders around the aquarium to ramp up the energy.
As a one-time spectacle, Ripley's had two divers engage in "scuba-football" in the tank.
Live DJ performances by Kardinal Offishall, DJ Unimerce and Jessgo (performance and visual art)
ON THE FIELD
EVENT DECOR
Throughout the aquarium there had to be a cohesive balance between football and fish without one overpowering the other. The feature bar was also a huge team effort. A custom designed structure was built to fit over the crab tank to maximize the use of the Discovery Zone and establish an awe inspiring visual impact. The custom bar was not only aesthetically pleasing but functional keeping debris from entering the crab tank.
The night before the event, the bar was brought in and assembled. Its triangular shape gave 3 access points to the bar which made the entire night run seamlessly with no lineups at the bar.
Miniature Grey Cup replicas were used as vases on various tables around the space.
Custom signage was developed to blend the theme in with the catering. We had menu cards on each station outlining the delicious tailgate themed morsels. There were napkins and table cards with print that encouraged guests to celebrate the kick off as they enjoyed the food being passed around.
THE PLAY BY PLAY
TORONTO CATERING
Catering for a large group is challenging. Combining passed hors d'oeuvres with creative food stations, this style of reception allows for ideal guest interaction while ensuring that guests are well fed. For this event, Jake took the menu development a step further by incorporating stadium inspired dishes and interactive stations. He kept in mind the season of the event (fall/winter), the type of event (corporate/celebratory), and the activities for the night (socializing/networking). Practical, easy to eat, filling and of course DELICIOUS menu items was the successful play for this event.
GRAB N GO POP-UPS
CORPORATE EVENT MENU
THE FINAL QUARTER
DESSERT
LINEBACKERS
EVENT SUPPLIERS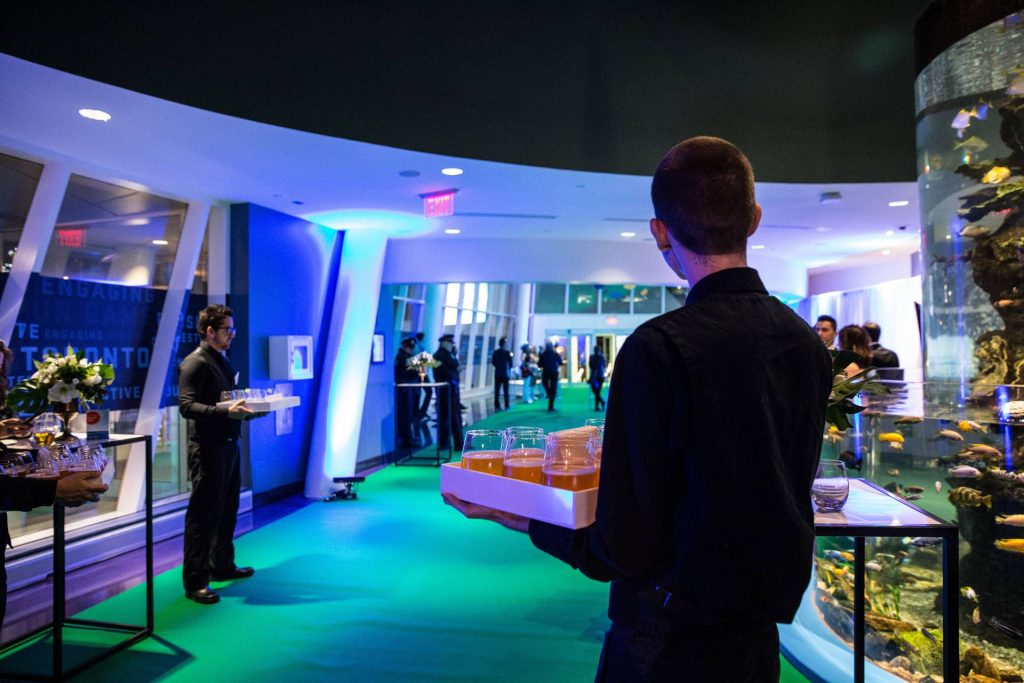 As they say, it takes a village and with large scale corporate events, that village is comprised of fantastic industry suppliers. To enhance the venue and make it feel more like a Grey Cup event rather than one hosted by Ripley's, Jake thought to wrap all of the bars and surfaces. Everyone needed to know it was Grey Cup time and Jake and his team made sure Toronto was ready.
Event Suppliers-
Get Wrapped
Divine Furniture Rentals
FMAV
CORE Event Staff
Event Rental Group/Micki's Linens
TOUCHDOWN
THE PARTY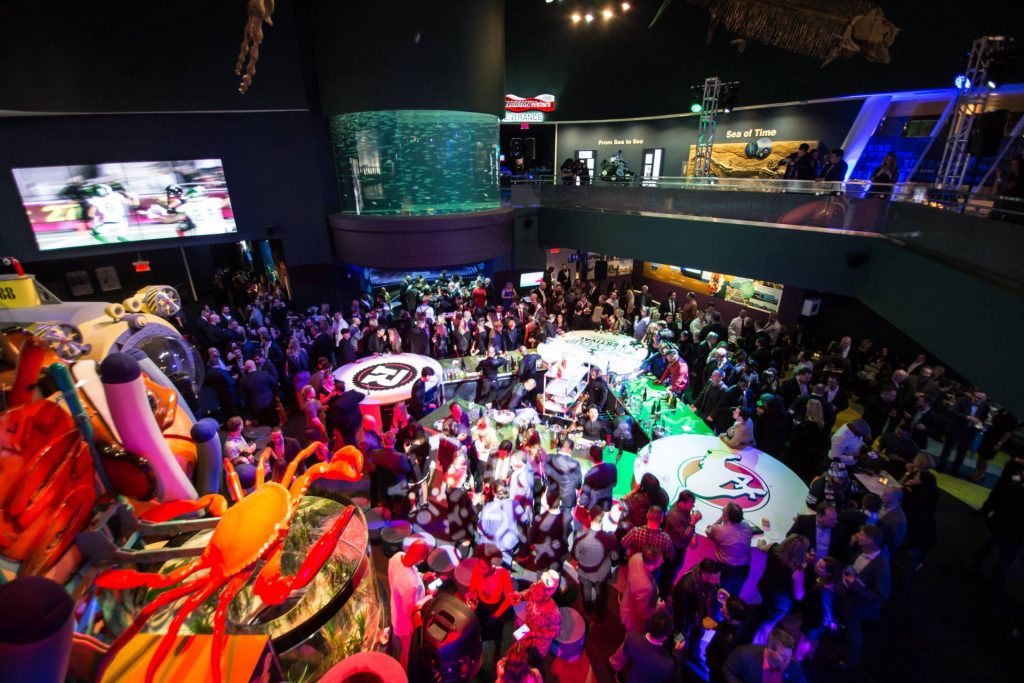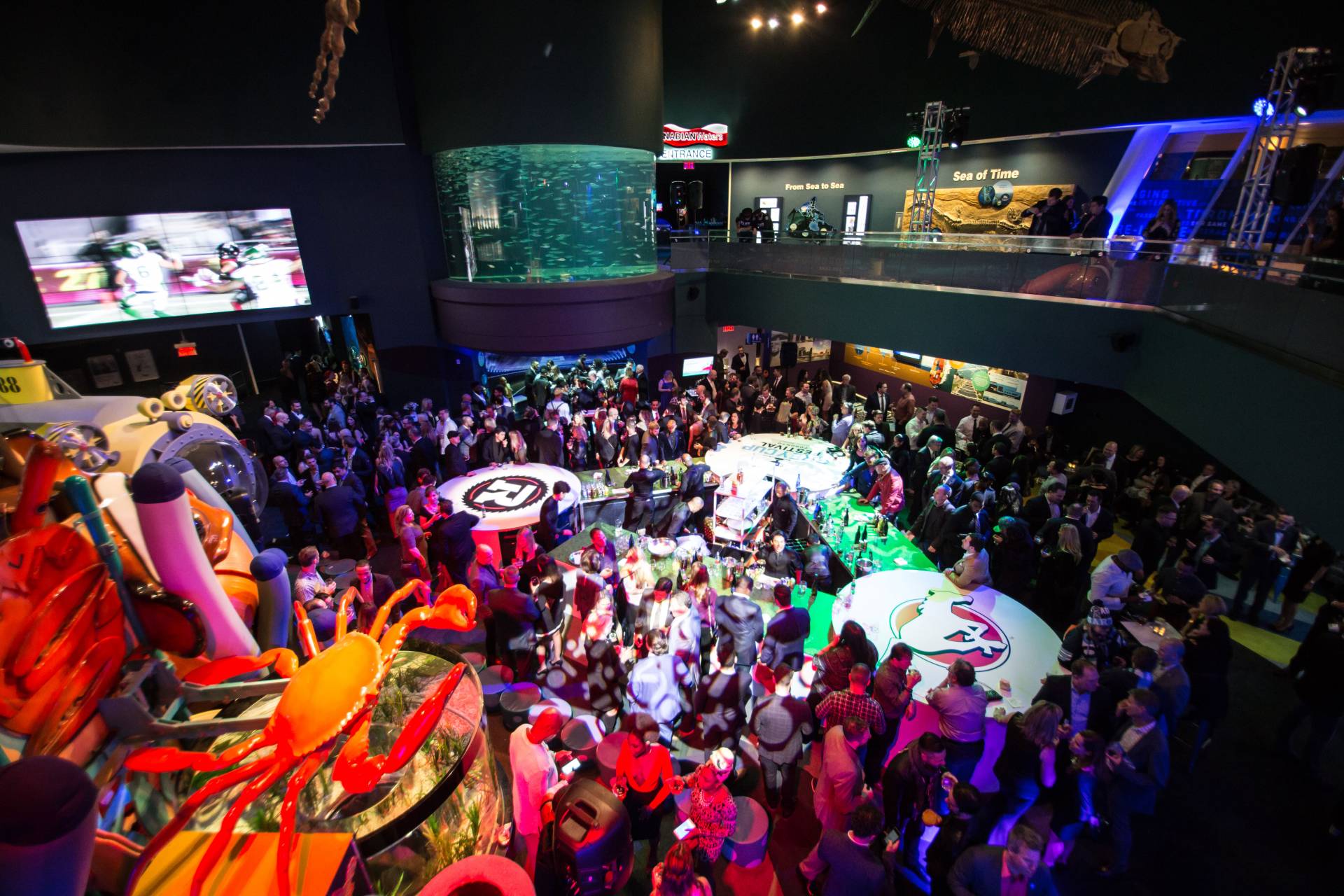 Corporate event planning does not have to be mundane and routine, especially not if it's a celebration. We always have an amazing time working with the team at Ripley's, and this time alongside the CFL we were able to create an experience that was not only unique for the guests but for us as well. We very much look forward to doing this again!
Summary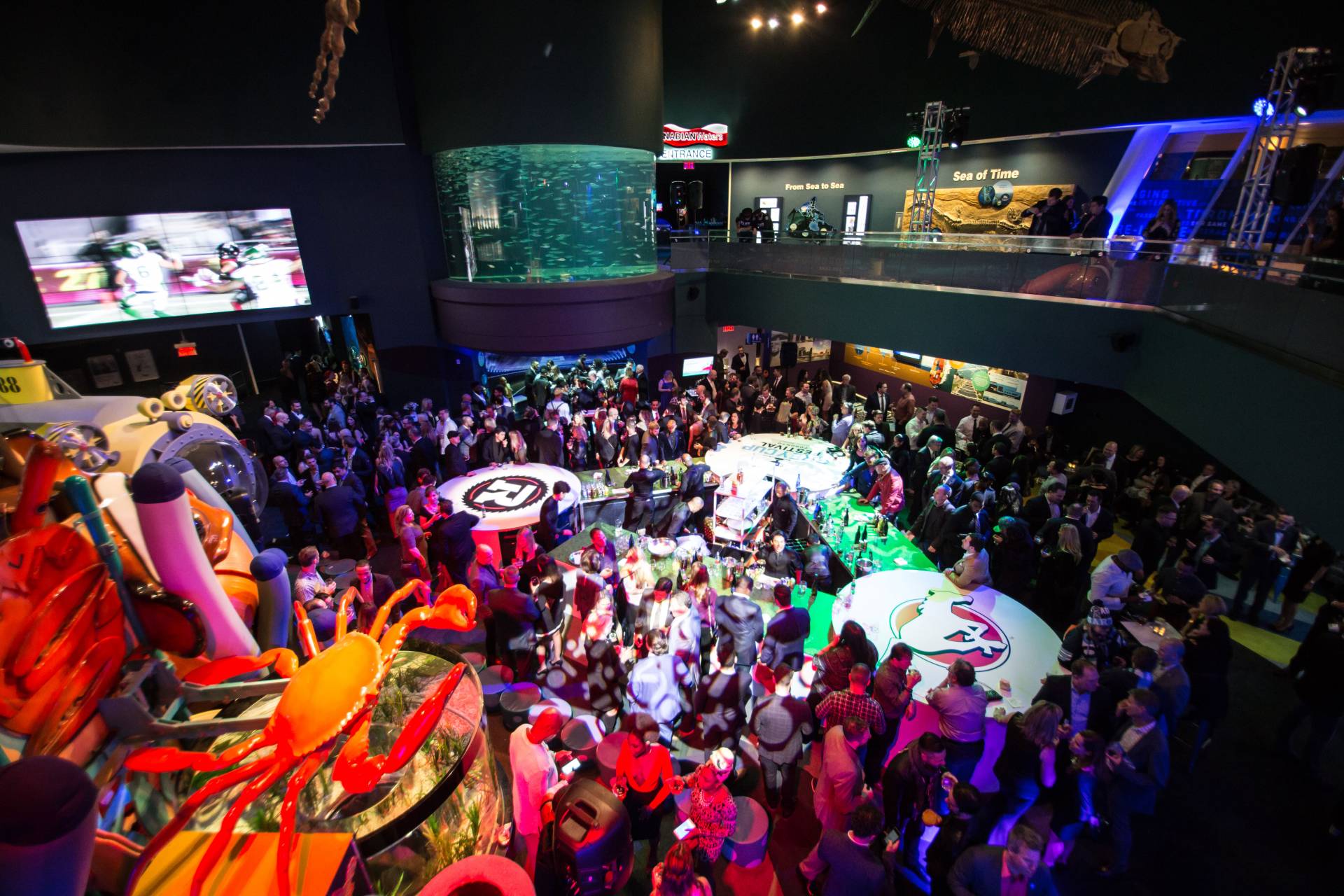 Article Name
FUN, FOOD, FISH and FOOTBALL!!! CATERING CANADA'S 104th GREY CUP
Description
Daniel et Daniel Catering & Events was chosen as the full service corporate caterer for the Grey Cup kickoff party that was held in one of Toronto's most unique event venues, Ripley's Aquarium of Canada.
Author
Daniel et Daniel Collaborative- Pierre Valcarcel, Wimela Shivparsad and Guillaume Clairet