Mixing things up this week, we bring you an entry by one of our Event Planners, Margaret Millar.
Photo credit: Spamily
Being a Preferred Caterer at so many of the city's amazing venues makes us a lucky bunch. MaRS Discovery District has always been a big supporter of local and the environmentally aware. MaRS, along with Henry of Pelham Family Estate Winery, recently invited all of MaRS' preferred suppliers to learn more about wine and to sample some of those that Ontario has to offer.
Upon arriving, we were invited into the old farm house on Pelham Road and escorted to the basement wine boutique. Always looking for new wines (and old favourites) to pair with our dishes, our palates were immediately awakened by a glass of Cuvée Catharine Rosé Brut as the difficult task of tasting wines began.

In honouring the tradition of naming this sparkling wine after the widow and matriarch of the family, one of the three Speck brothers, Dan Speck, led us through the history of Henry of Pelham bringing us right up to this generation's namesake, "Sibling Rivalry". So began the realization that Henry of Pelham is steeped in enough history to rival any Old World winery.
While we were led out to the vineyard and through some of the property, we were told about and shown some of the winery's sustainability practices that help preserve our province's green and historical spaces. You couldn't help but recognize the importance of supporting a quality product that not only tastes great but is environmentally-minded and supports a local producer.
We made our way down to the cellars, surrounded by oak barrels, and were presented with a range of three Chardonnays, distinct in their colour and taste. Mirroring last year's experience at MaRS, where we were given the opportunity to taste red wines and blend different versions of a Meritage, this time we were to blend the three Chardonnays in whatever ratio we liked to make one we were happy with. The three strikingly different Chardonnays, ranging in oakiness, were tasted, re-tasted, mixed and remixed.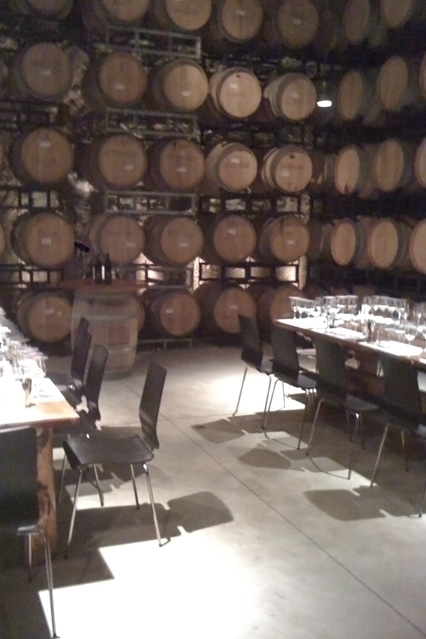 After some successes (and a few failures… what a waste of good wine!) we were perhaps a little tipsy but did our best to compare notes and talked more about wine. We were invited back to the Coach House and ate lunch amongst the Bobbi Speck Art Collection which focuses exclusively on Canadian artists. Dessert could be nothing else but wine, and we wanted nothing else.
An incredible day and a big thanks to Henry of Pelham and MaRS for giving us a chance to play wine maker, if only for the day.